Special Needs Dogs Fund-Raiser
The Story Chloe and Friends
When we started this project it was to focus on funds for a special needs pup of Schnauzer Rescue Cincinnati/Florida. As we worked on this, it quickly became apparent SRC/F had many stories about the special needs pups that our Medical Fund is taking care of. So it has evolved to Chloe and friends.
To donate (tax deductible), Click Here.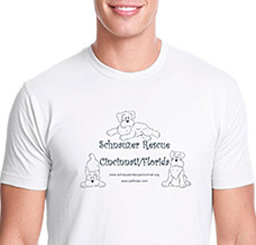 Order your SRC T shirts.

M- XL-2 XL - $12.00
T shirt purchases benefit the SRC/F Medical fund. Show your pride in Schnauzer Rescue Cincinnati/Florida! You can order you T-shirt 2 ways – via PayPal or Snail Mail. We are a 501c3 charity, your donations are tax deductible!
Commemorative Videos
Schnauzer Rescue Cincinnati has created new videos to commemorate our lost fur-kids, and fellow rescues for each year.
Featured Sponsors
Schnauzer Rescue Cincinnati would like to take an opportunity to spotlight a valued sponsor and friend. The Animal Ark Pet Resort based in Cincinnati, Ohio not only is a great place to board your pets, but they also offer training services as well. As a long time friend of SRC, we want to give a Special Recognition for all of their support.
Please take some time and check out the many services they offer. Please click on the logo above to visit their website. Please use these companies for all your search, shopping, and pet's supplies. A percentage of all the sales driven by our website is donated to SRC.
Remember, all new donated items are tax deductible.

Donate a Kuranda Bed to SRC at a
special discounted price.